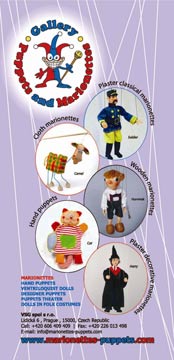 The puppet show has been one of the traditional forms of theatre in the Czech lands for many centuries. It has gone a long way from its origins to its present form.
Manufacture of puppets and puppet theatres reached the peak of their glory after the formation of the Czechoslovak Republic. Marionettes were massively produced, the stage decorations were printed in high quality and the country was the home of more than two thousand groups that staged puppet shows for children on a regular basis.
Today these traditions basically remain at a new modern level. A company called "The Gallery of Czech Puppets & Marionettes" represents a small family firm which was formed in 2000 and is located in Prague. It began with manual manufacturing of small parts of strings marionettes and their sale on the market. We represented Czech puppets and marionettes at a festival of national creativity in Israel in 2011 and at an exhibition of children's toys in Germany in 2013. With the arrival of modern technologies in communications, the basic emphasis has been made on electronic methods of trade. We co-operate with the majority of manufacturers of puppets, wooden toys and puppet theatres in the Czech Republic as well as with world famous and beginning authors. On our company´s webpage you can find author's works of such artists like Pavlickova, Ruzicka, Krcal and others. Those products are in private collections and in museums of the European countries and both North and South America. Futhermore, on the webpage you can also find qualitative serial products of such firms as Masek or Muybrno.
Every single wooden toy or marionette puppet is a handmade original, that´s why it is possible to have a little bit different style of used clothing or accessories. In each case we will do our best to find an ideal product for you.

Company owner
Svetlana Vasiljeva, Ing.